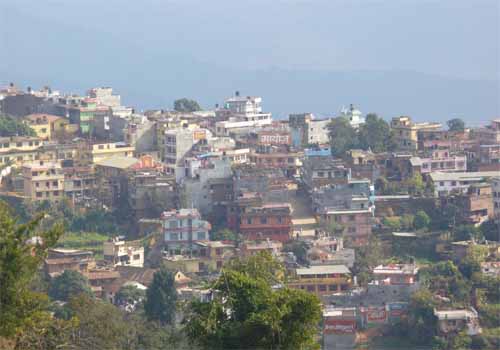 Tansen, the headquarters of Palpa district, is an ancient hill town that lies at an altitude of 1350 meters above sea level. Palpa is a district in the Lumbini zone of Nepal. According to legends, the name Tansen comes from Magar language that means northern settlement. It is a typical Nepali town with a multitude of fairs, festivals, religious and cultural events.

Tansen is easily reachable through Siddartha Highway, and lies between Pokhara and Lumbini. Tansen, most probably, is one of the best hill stations of west Nepal in terms of its location and climate.

The climate of Tansen is very pleasant, and is fairly mild all year round. Apart from the excellent weather, there are a numerous places to visit in Palpa. Srinagar Danda (hill) is one of such places. This wonderful hill offering the magnificent panoramic view is at a height of 1650 meters. The hill is covered with dense pine woods that add to its splendor. The forest comes to life in the rhododendron blooming season. Rhododendron is the national flower of Nepal that blooms in spring, making all of the forest turn red. This hill sees a huge number of visitors all year round. Besides, the hill also is the best viewpoint for watching the sunrise and sunset. The hill also offers a majestic view of the Himalayas, and not to mention, Tansen bazaar.

Tansen Durbar, an age old palace and the administrative center of Palpa district is also worth paying a visit. The palace is said to be built by Pratap Shumsher built in 1927 AD. A famous public square called Sitalpati is also one of the popular tourist destinations.
Besides its beautiful places, Palpa is also renowned for a few articles that you could bring as a souvenir. Dhaka, the most famous of them, is a Nepali hand woven fabric that is acclaimed nationally and internationally as well. It is used in making Nepali caps, shawls and purses. Other articles include Karuwa, a traditional water pot made of bronze.

For those who want to taste the authentic Nepali culture, Palpa could be the best destination. The place hosts a number of melas (fairs) like Maghe Sakranti Mela, Satyawati Mela, Pravas Mela, Lalpati Mela and Rambha Pani Mela. All these fairs are conducted at different times in a year, and no matter when you visit there, you might be lucky enough to get a glimpse of one.

Stunning places to visit, rich natural beauty, a serene and calm environment along with the age old culture and architecture of Palpa is not be missed by anyone visiting Nepal. So, if you are in Nepal, take a few days out and pay a visit to this beautiful and tranquil place. The memory of pleasant Palpa is bound to remain in your heart.